May 2013 Newsletter: Gems for Gents
The colored gemstone market for men has slowly been gaining more and more popularity over the past few years. Gone are the days when most men didn't care about fashion; nowadays, everyone wants to be unique. Men are beginning to become bolder with fashion and one way to stand out from the crowd is by accessorizing with precious stones.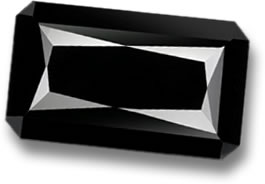 Black Tourmaline
Not all jewelry has to be feminine. There are many colored gemstones that even the manliest of men can sport. The most popular types of gem worn by males today are classic neutral-colored stones such as black onyx or agate (chalcedony), grey moonstone and nacre (mother of pearl). However, men are stepping out of their safe-zones and they're becoming much more adventurous with fashion. In today's top designer lines, colored stones like garnet, lapis lazuli, spinel and jadeite are in high demand.
Many popular jewelry designers are integrating masculine gemstones with radical, nontraditional and alternative metals. Nowadays, it's not uncommon to find gents' jewelry featuring bold colored stones and unconventional base materials such as ceramic, steel, titanium, silver or leather. When colored stones are set into these "masculine" settings, the finished jewelry designs are without a doubt, tougher than tough.

Gems for Men's Jewelry
Garnet
The name "garnet" is derived from the Middle English word "gernet", which means "dark red". However, red is just one of the many vibrant color variations of garnet. Not only is garnet available in a numerous array of colors, it also has many varieties including rhodolite, tsavorite, spessartite, grossularite, demantoid and almandine. There are other varieties as well, including "hybrid" mixes and color change garnets. However, no matter which type of garnet you decide upon, rest assured that it's one of the finest and toughest of all precious colored gemstones. Due to its toughness, garnet is commonly used as a silicone substitute for industrial abrasives and when mixed with high-pressure and water, garnet can be used for sand-blasting and steel cutting. Being as tough as nails, garnet definitely deserves to be on the gentlemen's list of top gems.
Garnet has an excellent level of hardness, ranging from 7 - 7.05 on the Mohs scale of hardness. It also has a very high refractive index, which results in excellent brilliance (a quality greatly admired in gems). Did you know that barbarians and Romans alike had a liking for garnet gems? Still to this day, garnet remains a popular stone.
Lapis Lazuli
Lapis lazuli is often abbreviated to simply, lapis. The word "lapis" originated from the Latin word meaning "stone", and "lazuli" from the Persian word meaning "sky"; together the results are an amazingly sky-blue gemstone with star-like inclusions that shimmer and sparkle like the starry night.
To say that lapis is an extremely attractive gemstone does not do this stone the justice that it deserves. It has always been a favorite amongst blue colored stones and to this day, it is second only to turquoise in popularity.
The best lapis specimens possess a deep blue color with minimal marbling of calcite deposits. Calcite deposits can give the false illusion that the lapis stone is actually less blue than it really is. The golden sparkles within lapis are deposits of another mineral known as pyrite, referred to as "fool's gold". As long as the pyrite deposits are not exceptionally large, they can make the lapis much more desirable.
Lapis lazuli is an excellent, versatile gemstone and because it's technically a "rock" and not a mineral, lapis lazuli remains a preferred gemstone for guys.
Jadeite
Jadeite is one of two minerals referred to as true "jade" in the gem trade. The other mineral is nephrite, which is much more common. Nephrite is not nearly as valuable or precious as jadeite. Jadeite can be found in many different hues, with emerald-green being the most desirable of all. Jadeite gemstones are mined from areas all over the world, but the best deposits are known to originate from Upper Myanmar (Burma).
Quartz and serpentine can often be mistaken for jade, but through laboratory testing, jadeite is easily distinguished. Jadeite may not be one of the hardest minerals based on the Mohs scale, but it does have one of the toughest known compositions. Jadeite is literally stronger than steel, and so for this reason, men can proudly wear jadeite without feeling the slightest bit insecure.
Other Gems for Gents
These are just a few of the gem trends we've seen this year for men. There are many other popular choices available - such as black spinel, black tourmaline, black opal and of course, you can never go wrong with unique types (especially for pendants) like jasper, labradorite, Australian boulder opal and chrysocolla.

Gemstones for Men's Jewelry
Browse through our fancy shapes for some great inspirational ideas and if you're ever in doubt, send us an email and we'd be pleased to help forward our personal suggestions.
Rare and Unusual Gems
1: Multicolored Pietersite Cabochon Gem from Namibia.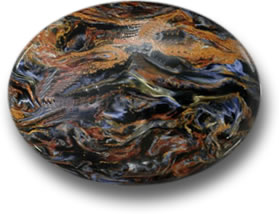 Natural Pietersite
Pietersite
is the trade name given to a variety of
tiger's eye
called riebeckite. It is mainly a composite of both hawk's eye and tiger's eye. Pietersite patterns are rather chaotic swirls and streaks in every direction, but through the chaos is serenity and beauty. The colors can range from the typically blue-grey base colors to different red, gold and brown shades as well.
2: Flaming Hot Mexican Fire Opal.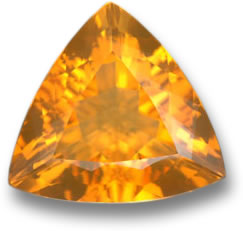 Mexican Fire Opal
This remarkable 8.78 carat Mexican fire opal is absolutely stunning. A unique trillion style cut really makes this gem stand out. Opals of this size and quality are not an easy find! Opal is famed for its play of color, but fire opal from Mexico is known for its strong body color rather than its play of color.
Industry News
Gold prices drop $140.40 per troy ounce in one day!

This month, we witnessed the biggest gold price plummet since February of 1983. For the second straight session, prices for gold fell 9.4%, settling at $1360.60 per troy ounce. Over the last 5 years, gold has fluctuated from triple digits up to a high of over $1800 and current prices are again on the rise and stabilizing at well over $1400.
A high quality blue diamond rough weighing 25.5 carats mined from South Africa.

This month, Petra Diamonds Ltd., discovered a remarkable 25.5 carat rough blue diamond at their Cullinan Mine in South Africa. The specimen is said to be of very good quality and top color. The Cullinan Mine has produced some of the world's most famous diamonds, including the world's largest two polished diamonds and approximately a quarter of the entire world's diamonds, weighing over 400 carats.
Customer Questions
Every month we answer questions of general interest from our customers. Please feel free to send your questions or suggestions to our support team at help@gemselect.com!
Question
Can you guys tell me more about Kasikorn Bank? I've never heard of them and I've never seen a branch of their bank internationally.
Answer
Kasikorn Bank is one of the largest banks in Thailand. They not only have branches all over Thailand, but they actually have branches all over the world including Los Angeles, Shanghai, Hong Kong, the Cayman Islands, Tokyo and other places.
To read more about Kasikorn Bank, you can visit their website
here
or read our information page here:
About Kasikorn Bank
.
Kasikorn Bank is the top bank of choice for GemSelect. GemSelect has been partnered with Kasikorn Bank for over 7 years, but in efforts to constantly improve our services, we are pleased to expand our payment options beyond just Kasikorn Bank.
We have recently added several new payment options to our check-out page, so as to ensure that all of our international customers can place orders with us online.
Question
I see you guys have made some changes to the check-out page recently and I'm not happy about using PayPal for my payment. How else can I pay?
Answer
We're happy to say that you do not
have
to use PayPal to process your credit card payment with us. It is just one of the 6 check-out options we've recently implemented.
In efforts to constantly improve our services, we are pleased to offer check-outs via Kasikorn Bank, as well as 5 additional check-out options including Paypal, the most reputable and secure online payment service provider in the world.
We are committed to customer satisfaction and are constantly striving to improve our services for all of our customers, so in response to recent feedback, we've made available for you, additional payment options so that you can check-out and make your payment in whichever way is most convenient for you.
1: You can securely check-out using your credit card through our Kasikorn Bank payment gateway.

2: For those who prefer PayPal, you can check-out with your PayPal account.

3: For those who do not have a PayPal account, you can still use your credit/debit card through PayPal without registering at all - this means you do not need an account to use your credit card through the PayPal check-out.

4 and 5: We've also added some extra check-out options for those without access to credit cards or those who prefer to pay direct - direct bank wire and Western Union transfer options. If you want to pay via transfer, select one of these options and you will be provided with simple instructions on how to complete your payment. Once your payment transfer has been completed, we will ship your order promptly.

6: Bill Me Later is offered to those who want to buy now but pay later. Bill Me Later is a PayPal provided service that allows you to pay for your purchase in installments.

BML offers 0% interest if your purchase is paid in full within 6 months! If you do not have a Bill Me Later account, you can easily do so in a few simple steps from our check-out pages. *Bill Me Later is not yet available in all countries. See BML terms and conditions

For more information, please visit our payment info page.
Keep up with our new arrivals before they hit the newsletter by joining our thousands of fans and followers on our social networking pages. We love interacting with our customers - you can visit us on Tumblr, LinkedIn, Twitter, Facebook or Pinterest!
To ensure you can receive our emails, please be sure to add help@gemselect.com to your list of safe contacts, or you add us into your email address book! Please feel free to contact us with any questions, comments and queries! We respond to each and every email we receive.
Happy Gem Hunting!
Your friends at GemSelect